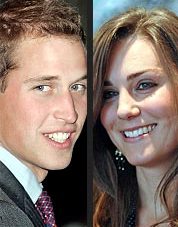 When Prince William and Kate Middleton walk down the aisle in 40 days, guests at the royal wedding could include several people with whom they were romantically involved at one time.
It's time for another update on the year's biggest wedding event.
With less than 40 days to go before Prince William and Kate Middleton walk down the aisle and officially tie the knot in front of a star-studded collection of guests, rumours abound as to who's invited and who's not. You may think that inviting some past flames to your wedding may be a bad idea, but that's exactly what the royal couple intend to do on their big day.
According to Victoria Arbiter, royal contributor for CBS News, there are a number of surprising additions to the guest list that may raise some eyebrows. Insider sources share that recently invited guests include Kate's first boyfriend in university. Prince William on the other hand, has apparently invited four of his ex-girlfriends—you can expect to see Jecca Craig, Arabella Musgrave and Olivia Hunt at the ceremonies.
Of course, close friends of the bride and groom are quick to defend these additions. All of William's exes are apparently good friends with Kate—she even visited Craig's estate in Kenya. Still, observers can't help but feel nonplussed by the additions.
Aside from being treated to a royal experience, guests can also expect to take home some unique souvenirs that mark the royal wedding. Some of the memorabilia include shirts, engagement ring replicas, knitting patterns, iPad covers and more.
Posted in
Celebrity Wedding
Tags:
Kate Middleton
,
Prince William
,
Royal wedding