With your Ottawa wedding fast approaching, now is the time to do something extra special for your future spouse to take her mind off of all the stress of planning the big day.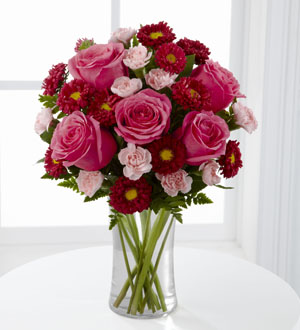 Valentine's Day is around the corner and this special day is known as a day of romance. Treat your bride-to-be with a special Valentine's Day flower bouquet from Crown Floral Boutique located in Orleans just outside of Ottawa.
Traditionally diamonds and flowers speak to a women's heart telling her you love her. Well you bought the diamond, now it is time to show your love with some flowers, reminder your loved one that amidst all the busy planning, you are still her primary focus.
Crown Floral Boutique, serving Ottawa, has several pre-arranged flower bouquets featuring roses, carnations, lilies and tulips. You can also create your own custom arrangement to display your own unique love for your fiancee.
Flowers are the perfect Valentine's Day gift for any loved one. Do not forget about your mother, sister or maybe you want to treat your maid of honor thanking her for all the hard work she's been doing.
Whatever the occasion or the reason, Crown Floral Boutique is here to serve you with beautiful, fresh flowers and wedding décor. For more information call 613-841-7770 or visit www.crownfloral.ca. Visit their showroom at 3B-900 Watters Rd., Orleans (Ottawa), ON K4A 0B4.
Posted in
Bridal Flowers
,
Ottawa Bridal Bouquets
,
Valentine's Day
,
Wedding Decor
Tags:
Bouquet
,
Crown Floral Boutique
,
flowers
,
Orlenas
,
Ottawa Wedding
,
Valentine's Day