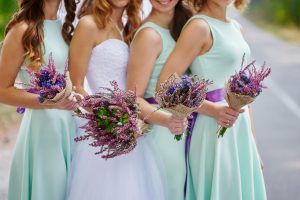 Are you planning your or your friend's wedding and are looking to get inspired? Then don't forget to visit one of the winter/spring wedding shows in Ottawa coming up in the near future.
Don't miss the chance to see the vendors from your area gathered in one place. Everything you need to know about your wedding presented by many professional exhibitors. You will find vendors from all corners – caterers, photographers, venue possibilities, and much more.
And these wedding shows are actual shows! You will be eligible for special discounts, fabulous door prizes, attending fashion shows and much more.
Ottawa's brides & grooms to be shouldn't miss these bridal shows! And bringing your friends to these events and planning your big day with them will add some extra fun!
Here is a list of 5  upcoming wedding shows:
Tie the Knot Ottawa, February 18th,  Ottawa Conference & Event Centre
A bridal show for modern, non-traditional weddings, with a unique venue and personalized theme.
Love is Proud, March 4th, Centurion Conference & Event Centre
The first LGBTQ+ couples' wedding show in 2016 was a big success, so they're throwing the second one this March.
Pure Magnolia Trunk Show, March 10-20th, the The Handmade Bride
Pure Magnolia will present their couture gowns and bridesmaids' dresses for the eco-conscious brides to be at this traveling trunk show.
Love, Handmade. Wedding Show, March 25th, Old church on Cumberland Street
Don't miss this wedding show held in an old church for alternative brides and grooms trying to customize their wedding through unique and personal details.
Ottawa Wedding Show, April 8-9, EY Centre
This is Ottawa's premiere event in the wedding industry. A wide range of wedding experts will present their wedding products. It's a two-day event, so you can make a weekend fun event with your friends out of it! There's even a bridal party ticket discount if you visit with more people.
Posted in
Ottawa Bridal Shows
,
Ottawa Gatineau Wedding Events
,
Ottawa Wedding
,
Wedding Planning
,
Wedding Shows
Tags:
bridal show
,
Diamonds & Pearls Wedding Planning
,
Downtown Ottawa
,
ottawa
,
Ottawa Bridal Show
,
Ottawa Gatineau Wedding Planner
,
Ottawa Wedding
,
Ottawa Wedding Planner
,
Ottawa Wedding Planner tips and advice
,
ottawa wedding planning
,
Ottawa Wedding Show
,
Ottawa wedding show 2017
,
Wedding Ottawa
,
Wedding Planning
,
wedding show
,
Wedding Tips
,
wedding tips and advice