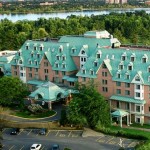 If you want to marry in the same place that you plan to have your reception in, you can usually get a deal through a hotel, conference/meeting centre or museum/library that allow weddings on site. In order to get this all inclusive deal you'll need to have the specifics of your wedding roughly pre-planned, how long do you plan to use the facilities, how many guests, the necessary rentals, and catering to start. Some of these you can get referrals for from the coordinators at the venue.
And don't be afraid to shop around and see how much you can get from one place for which dollar amount. Get the most bang for your buck possible. And take these quoted prices and services with you when you visit another venue, because these numbers might persuade a preferred venue to lower their price to earn your business. Don't be scared to haggle for what you want, weddings are a multi-million dollar industry and the average person doesn't have access to millions, so just ask for the best price possible for your venue and wedding needs.
In Ottawa there are a plethora of options, beginning with major chains of hotels, museums, universities, colleges, public gardens or parks, and government buildings. Anything that uses public property or government property might require you to get a permit, so be sure to ask any question you can think of when considering public/government spaces.
All-in-one venues give you the chance to keep you guests together and can make life a bit easier knowing you don't need to shuffle 100+ people from one place to another all the while hoping no one gets lost along the way. It also gives the guests a chance to explore the grounds and facilities as well, which is great if you do get married at a museum, university or college. I getting married in a church doesn't seem like an option for you, just take a moment and consider the possibilities around you. This could be your chance to have your cake and eat it too.
Posted in
2014 Wedding Trends
,
Antique Weddings
,
Backyard Wedding
,
Barn or Farm Weddings
,
Country Wedding
,
Destination Wedding
,
Downtown Ottawa
,
Finances
,
Happily Ever After
,
Jewish Weddings
,
Marriage
,
Ottawa Banquet Halls
,
Ottawa Hotels
,
Ottawa Outdoor Weddings
,
Ottawa Wedding
,
Ottawa Wedding Ceremony
,
Ottawa Wedding Planner
,
Ottawa Wedding Reception
,
Unique Weddings
,
Wedding
,
Wedding Planning
,
Wedding Reception
,
Wedding Tips
,
Wedding Venue
Tags:
all-in-one wedding venues
,
non religious wedding venues
,
Ottawa Wedding Planenr tips and advice
,
Ottawa Wedding Planner