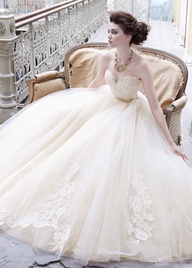 Once you become engaged you'll want to start looking for the perfect dress, you'll buy bridal magazines looking for inspiration for your bridal look. But before you go shopping for your wedding dress, we have a few tips and things you should know about gown shopping.
Most bridal shops are by appointment only, so you'll have to call ahead of time and arrange a day to go. There are good and bad days to go to a bridal salon, the bad days are Saturday and Sundays. Those days are the most popular because it's the weekend, but if you go in the morning during the week you'll find a relaxed atmosphere and personalized attention from the store attendants, and who doesn't want that?
You should also keep the size of your entourage small when you visit the bridal boutique. You should only bring one to two other people along. Bridal stores aren't like shopping in the mall, all the gowns are replicas worth thousands of dollars and the dressing rooms will only accommodate a handful of brides. So don't pull dresses off the rack and remember to let the staff help you.
Don't take pictures of yourself in the wedding dresses, many stores have a policy against cameras because there's nothing stopping you from taking a picture of yourself in a dress and then having a dressmaker make the dress from the picture. So before you take a selfie ask if it's okay, and don't go bridezilla if it's not. Instead take notes on what designers you like and the style numbers of the dress, this way you can take the information with you when you visit another store to find another dress that is similar to the one you like.
You can make your shopping more efficient if you have a wedding dress budget in mind and pictures of dresses you like and want to try on, or the name of specific designers. Don't be afraid to tell the salesperson what you like and don't like, that way you aren't wasting your time or theirs. Another consideration when dress shopping is that some designers have their own stores and you won't be able to find their dresses anywhere else. This is also true of trunk shows.
Trunk shows are a chance for a specific designer to offer discounts on their dresses and showcase their products at the same time. Sometimes you can get 10-15% off dresses at a trunk show. So definitely keep your eye open for a local trunk show! And remember, once you've found the dress you want, as a courtesy call the other stores and let them know you've bought a dress.
Friday I'll have tips on what you should bring and wear to try on gowns. Have a great week everyone!

Andrea Kristensen
Social Media Manager
Her Wedding Planner
Posted in
Finances
,
Marriage
,
Ottawa Bridal Gown Shops
,
Ottawa Wedding
,
Ottawa Wedding Directory
,
Ottawa Wedding Planner
,
Wedding
,
wedding dresses
,
Wedding Planning
,
Wedding Tips
Tags:
bridal boutiques
,
bridal gowns
,
dress shops
,
Ottawa Wedding Planner
,
Ottawa Wedding Planner tips and advice
,
tips and advice
,
wedding dress
,
wedding dress shopping
,
wedding gowns