Gone are the puffy sleeves and the horrible Sea Foam green colour of the 80's, we are in a whole new era of bridal attendant fashions. Bridesmaids dresses are so stylish that bridal parties look like they stepped from the pages of magazines.
No matter what season you're getting married in there is something for your friends and family to wear that not only compliments their body shape, but looks chic too. We've chosen a few styles for each season and explain the pros of these dresses for that season.
Spring Dresses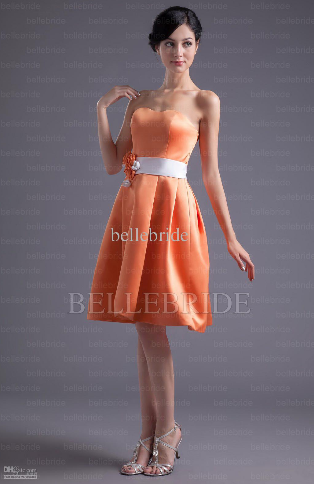 This dress has fun written all over it. With a flirty design and A Line style this dress will look good on almost any body shape. The belt is a great accessory that complements the colour of the dress with a sprig of flowers. A serious contender in the Spring dress category.
Bellebride's choice of Peach looks fabulous, this gown would be perfect in bright spring colours. Your bridesmaids will love this strapless dress! It's versatile look can be paired with sandals, flats, or heels.
This is a great selection for brides getting married in the late spring or in a hot destination wedding.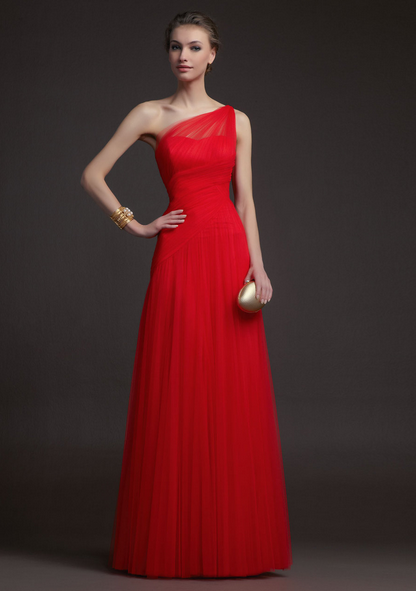 This gown is the definition of wedding elegance. The flowing tulle is sophisticated  and stunning. The Empire waist line draws the attention upward towards the neck and face, so if your wedding party is full of pretty ladies this may be a dress you want to consider.
Aire Barcelona makes great evening wear and even better bridesmaids attire. With the faux wrap waist and tulle over the shoulder your attendants will look like they're ready to walk the red carpet.
Perfect for an early spring wedding, the dress keeps the legs covered and your bridesmaids warm, pair this dress with a fashionable shawl and the look for early spring is complete.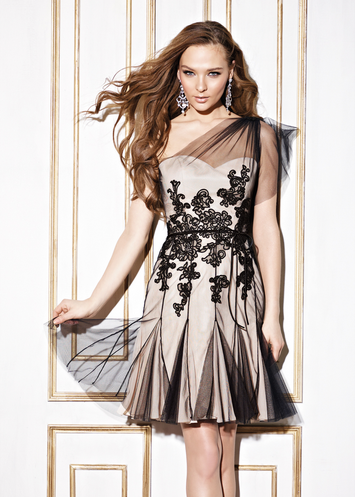 This dress is trendy and hot! A silk dress with tulle overlay and lace flower midsection makes for a grand entrance before the main show. Impress your wedding party by showing them this amazing dress. Your friends will never want to take it off!
With an A Line design this dress will look great on any body shape. Not to mention how breathtaking your photos will look.
Ezoani makes a dramatic statement and a serious contender in the bridesmaids dress arena.
Summer Dresses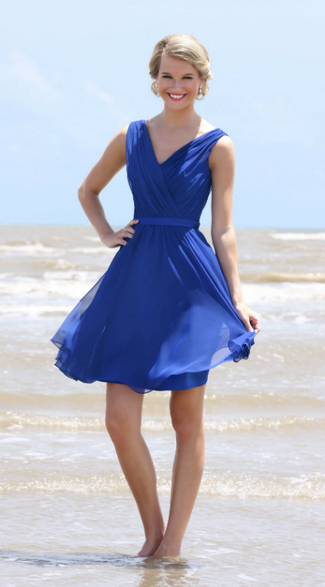 Here's a classic look for a summer wedding, the A Line design and faux wrap top will look good in any colour and on any body shape.
The belt brings in a modern touch and helps to separate the top from the bottom. With a light tulle overlay this dress is perfect for a summer wedding. Another dress that can be paired with any type of shoe.
This dress, by Today's Bride, is a classic look for your perfect day.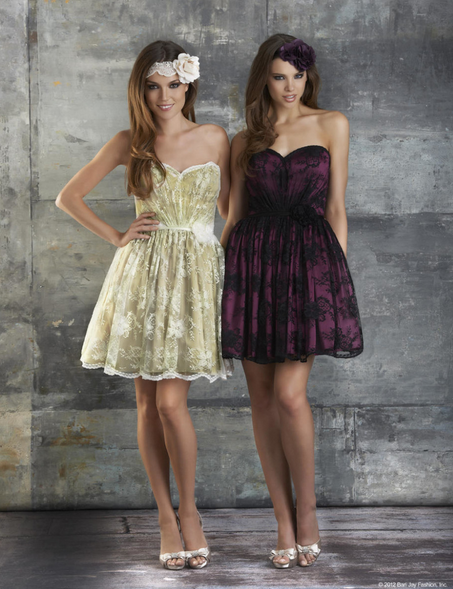 This strapless dress by Casual Trends is another A line design which complements any body shape and size. The lace overlay is chic, fun, and certain to make your wedding attendants look dazzling standing beside you.
Your summer wedding will be the toast of the season with your bridal party looking so fashionable and delightful.
Pair this dress with some great peep toe heels or strappy sandal heels.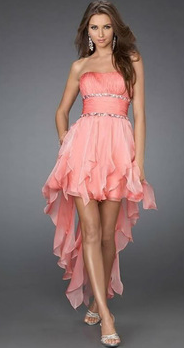 This last dress by Zuhair Murad is an edgy look for your summer wedding. Definitely not for tradition loving types, this dress says fab-u-lous! Why not have some fun this summer with your bridal party look!
Imagine the gown in pastels, it's sure to make your wedding a rememberable one. You have to love the mini train and the sparkling belt, this dress will surely make a statement as your bridesmaids walk down the isle.
Fall Dresses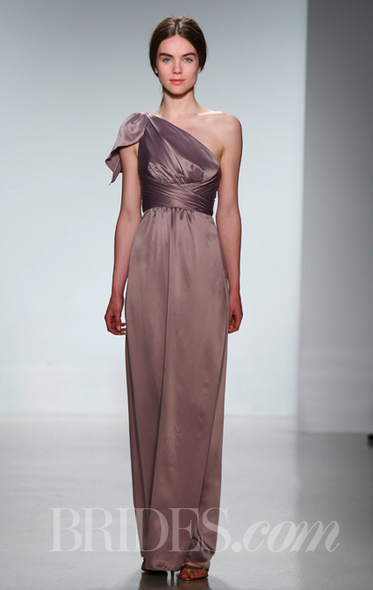 Fall fashions will not only keep your bridal party warm, but stylish as they walk down the isle in this A Line style dress by Amsale.
The silk faux wrap that ties over one shoulder give this dress a look of refinement. A step above a simple long dress, this look will have make the changing leaves look dull in comparison.
Perfect for all body types, this dress is sure to be a favorite among your attendants.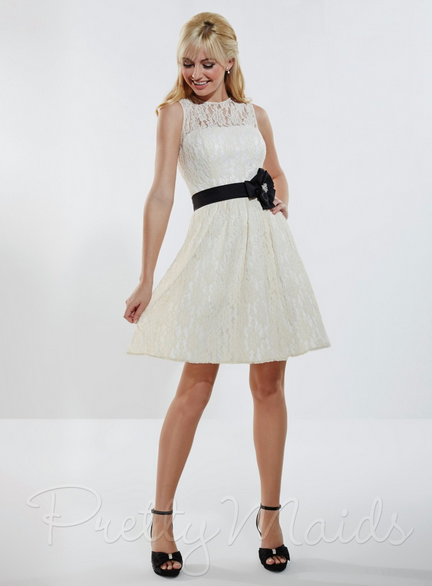 Pretty Maids gives this classic look an update with the lace overlay and belt. Perfect for an early fall wedding, this dress is simply adorable! The A Line design is perfect for all body types.
The lace and silk are sure to look amazing in any fall colour and go with heels or flats splendidly.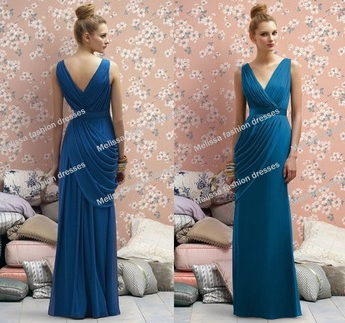 This last dress is wonderful with the crisscross of material in the front and back. The drape of material over the hip gives an air of sophistication.
Dye the dress in any colour and it will look amazing! The A Line design makes it perfect for all body types, and its length perfect for a cooler autumn day.
Winter Dresses

Although this dress is knee length, it's perfect for a winter wedding! It almost feels like a Christmas gift. The waist is accentuated by a satin belt and perfectly separates the lace top from the satin bottom.
This is exquisite for a winter wedding, making your bridal party look wrapped up for the season. A winter shawl would be the perfect accessory for this fabulous dress.
This full length dress updates a classic style by covering one shoulder  and continuing to drape the outer material over top the rest of the dress.
By covering most of the chest your bridesmaids are sure to be warm enough while you take pictures.
The A Line style makes it perfect for all body types and is sure to be beautiful in winter colours.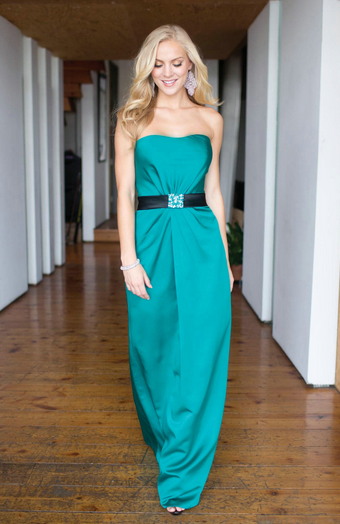 This last dress by Well Bridal is a satin full length dress that has a great jeweled belt that gives the dress a fun touch.
The A Line design is great for all shapes and the darker colour belt is the perfect accent. This is another dress that can be paired with a winter shawl and keep your attendant warm while the snow flies.
Let us know what you think about our seasonal picks, leave us a comment!
Posted in
2014 Wedding Trends
,
Fall Weddings
,
Ottawa Bridesmaid Gowns
,
Ottawa Wedding
,
Ottawa Wedding Planner
,
Spring Colours
,
spring weddings
,
Summer
,
Wedding
,
wedding attendants
,
Wedding Planning
,
Wedding Tips
,
Winter Themed Weddings