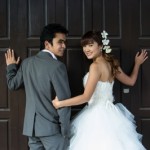 What do you envision for your ceremony? Elegantly dressed guests who await your arrival and music that sets the mood as you begin your way down the aisle toward your future husband. Now here's the big question, is that live music playing or is that a CD?
Don't trust just anyone with your music needs on your wedding day, call a professional. CDs can skip and an out of date CD player probably won't fill the chapel with beautiful music, but rather dull noise or too loud and bassy instrumentals. Whether you want a string quartet, or something funky to suite your tastes, get the right person for the job.
In our directory you'll find a number of skilled musicians and DJ's who know their business and can help make your wedding one day you'll remember forever! So go ahead and book that rock band to make your rockstar wedding reach the top of the charts, or get a harpist to play Mozart as you glide down the aisle.
Your wedding, your music, your memories. Make the most of them!
Posted in
2014 Wedding Trends
,
Antique Weddings
,
Backyard Wedding
,
Barn or Farm Weddings
,
Country Wedding
,
Engagement Parties
,
Fall Weddings
,
Finances
,
Happily Ever After
,
Jewish Weddings
,
Marriage
,
Ottawa DJ Services
,
Ottawa Wedding
,
Ottawa Wedding Ceremony
,
Ottawa Wedding Directory
,
Ottawa Wedding Music
,
Ottawa Wedding Planner
,
Ottawa Wedding Reception
,
spring weddings
,
Unique Weddings
,
Wedding
,
Wedding Ceremony
,
Wedding Planning
,
Wedding Reception
,
Wedding Songs
,
Wedding Tips
Tags:
disc jockeys
,
live music
,
Ottawa Wedding Planner
,
Ottawa Wedding Planner tips and advice
,
Unique Weddings
,
wedding ceremony
,
wedding ceremony music