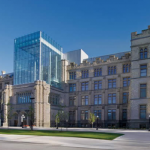 Getting married in a museum is a growing trend amongst brides and grooms. Museums offer a unique and personal feel to the wedding, especially if the museum holds a certain amount of meaning to the couple. Due to their grand architecture and interior design, a museum can bring the WOW factor to your nuptials. Imagine the pictures you and your guests could take while in the museum, it would be enjoyable for everyone.
Another reason for getting married in a museum is the contacts the museum would have. Museums throw events to raise funds and celebrate special occasions, so the museum coordinators will know which caterers and rentals places offer the best services, not to mention that you can ask for a complete list of companies they've worked with before. This will ensure that you get reputable companies and satisfaction if you choose from the museum's list. Also, if you decide to go the museum route, you can even plan for your invitations and gifts to reflect the museum of your choice.
Here's a list of Canadian museums that host weddings inside their buildings, or on their property.
The Canadian War Museum is a new building with modern architectural design, but a deep historical meaning behind the structure. Every year on the 11th of November the sun filters through a window and rests on a plaque commemorating the war heroes who died in the first and second world wars. This would be a fantastic place for a military couple to marry. Located in Ottawa, Ontario, this museum's unique design will give your function an edge you won't find too many places.
The Canadian Museum of Nature offers five different locations for couples to marry; the Barrick Salon, the Fourth-Floor Gallery, the East-Wing Foyer, the Queen's Lantern, and the Rotunda. The museum offers grand views and turn of the century architecture that brings the drama to your wedding. You can read on their website about weddings that have been held at the museum and keep up to date on the type of food that they can cater to your event as well. This has been a favorite spot for many Ottawa brides and was nominated for an Ottawa Wedding Award.
The Canadian Museum of Natural History has seven different halls and salons to choose from, each with a magnificent view. The museum is located across from the Parliament buildings in Gatineau, Quebec. Some of the rooms have beautiful views of the Ottawa river, or grounds of the museum. This museum works exclusively with Sodexo, an event planning company. You can view their catering menus and decor design on the website as well. This is a beautiful and grand museum with awesome views of the Ottawa river and Parliament Hill.
The Canadian War Plane Museum features war planes of distinction and would give your wedding wings not offered too many other places. This museum is located in Ottawa and has airplane hangars, and beautiful grounds that have great wedding potential. Dining arrangements can be made underneath a very impressive aircraft with an enormous view of the grounds outside. Their website offers catering information and ceremony location advice. If you love aircrafts, this is definitely worth looking at.
The Canadian Agriculture and Food Museum holds unique indoor possibilities for your wedding, but their grounds would make it the perfect venue for an outdoor wedding. This museum is also located in the Ottawa area. Their website suggests working with the museum's resident Facility Rental Coordinator to ensure you book the best services providers for your wedding as well as on site event coordination and access to the museum and grounds. If you love the farm life, you'll definitely want to put this museum on your list!
The Canadian Science and Technology Museum features the best Canadian inventions as the backdrop to you wedding. This museum offers six different venues for your wedding day. The museum also offers catering packages, decor rental, Museum staff to help with your wedding day, audio visual equipment, free parking, and a discount on items you purchase from the gift shop for your wedding. They offer information on their website about catering companies and facility rentals. Each room has a different technological or scientific theme, perfect for couples who love museums and innovation!
Traveling to Ottawa for your wedding may not work for you, but you can always contact a local museum and ask if they would allow you to host your wedding in their facilities. If you plan to get married locally, you should know all the best museums and grounds of your home town, so look into it now and begin to see the possibilities for your big day!
Posted in
2014 Wedding Trends
,
Antique Weddings
,
Barn or Farm Weddings
,
Country Wedding
,
Downtown Ottawa
,
Fall Weddings
,
Finances
,
Happily Ever After
,
In the News
,
Jewish Weddings
,
Marriage
,
Ottawa Banquet Halls
,
Ottawa Outdoor Weddings
,
Ottawa Wedding
,
Ottawa Wedding Ceremony
,
Ottawa Wedding Planner
,
Ottawa Wedding Reception
,
Ottawa Wedding Themes
,
Spring Themes
,
spring weddings
,
Summer
,
Unique Weddings
,
Wedding
,
Wedding Planning
,
Wedding Themes
,
Wedding Venue
,
Winter Themed Weddings
Tags:
Canadian Museum Weddings
,
Museum Weddings
,
Ottawa Wedding Planner