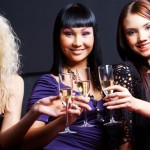 When you're invited to all the wedding functions you may be left wondering how many gifts you need to buy and how much you should spend. The following are a series of guidelines to gift giving etiquette that will help you navigate the bridal shower and wedding gift norms.
Typically at an engagement party there is no gift required, neither do you bring one for the rehearsal dinner. Although, if you are close to the bridal couple and you want to show your support you can always give a bouquet of flowers or a bottle of wine, just something small to celebrate the couple. The only times you really should bring a gift are the bridal shower and the wedding.However, there is no real requirement for you to bring a gift to the wedding.
If you are buying gifts for both occassions the norm is to follow the guidelines of the invitations. If it is a personal shower then you get something personal for the bride. Always check with the maid of honour first to see if the bride would be embarrassed by risque bedroom gifts. Other than that you can always give your gifts a theme to make them consistent. Most guests buy a modest gift from the bridal registry and give a monetary gift at the wedding.
You can always go in on gifts with other guests if you are purchasing a large ticket item. You can even use coupons and special deals to purchase items if it helps you to be able to afford them better. Most bridal shower gifts cost around $50, and while some people pay the amount that they feel their plate costs, the dollar amount you should give the newly wed couple is $100.
Never stray from the bridal registry if you don't know the couple well. The registry will always have exactly what the couple needs.And if you are a married couple going to the wedding, there is no need to buy separate gifts or give more money at the wedding. Just be sure that if you RSVP yes that you show up, have a good time and celebrate the couple appropriately.
Posted in
2014 Wedding Trends
,
Engagement Parties
,
Finances
,
In the News
,
Ottawa Bridal Registry
,
Ottawa Engagement Party
,
Ottawa Wedding
,
Ottawa Wedding Directory
,
Ottawa Wedding Planner