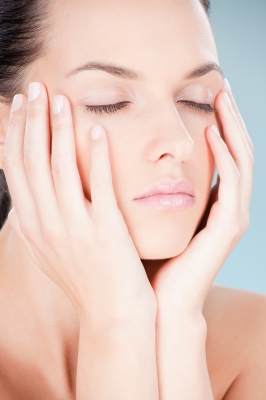 After you get engaged you'll be trying your hardest to keep on top of work, looking good, and wedding planning. As your wedding day approaches you might start trying out new products in the last few months before your wedding, but this is a big mistake! If something you try should cause you to break out in blemishes or worse you have an allergic reaction is can take months for your skin to get back to normal.
We suggest that you try anything new as early as possible to work any kinks out that may occur. At Hourglass Angel we have a terrific selection of skin care products perfect for any skin type. Enjoy our pregnancy safe organic line by Novena, made with all natural products to give your skin and conscious some piece of mind. Cleanse deep down without drying out your pores using the Novena Fruit Facial Cleanser, follow with the Novena Cucumber-Cran Eye Gel to reduce puffiness, lines and dark circles. Prevent brown spots by using the Novena Bearberry Brightener Moisturizing Cream twice a day, reveal the fresh new skin within you.
Improve your skins natural glow with the natural products of Mambino Organics. The Organic Cucumber and Rose Uplifting Face Tonic cleanses your pores of impurities and tightens pores to rejuvenate your skin and give it a healthy youthful glow. Looking for a mask, try the Moroccan Clay Renewing Face Scrub to cleanse, condition and detoxify the skin using the minerals in the clay to bring out radiantly smooth and evenly toned skin. Do you want to quickly reveal glowing skin? Use the Youth Glow Omega Face Complex to reduce rosacea, calm sensitive skin, boost collagen production and reveal healthier glowing skin. The Youth Glow works by quickly absorbing into the skin and releasing fatty acids and antioxidants that your skin needs in order to produce younger, glowing skin.
Does your body need as much love as your face? We've got products for that, like Burt's Bees Radiance Body Wash and Radiance Body Lotion. Apply a small amount and reveal brighter, naturally moisturized skin with the nutrients and minerals in the cleanser and cream. You can sample all of Burt's Bees Radiance product line by purchasing the Radiance Healthy Glow Kit.
We also carry products that target the breasts, belly and buttocks. The Novena line has creams that target your stretch marks and reveal the beautiful skin you have. The Mo Butta Booty Cream comes straight out of Detroit, Michigan to help give your back end a lift, even skin tone and smoother skin.
Give your skin a lift without breaking the bank with department store brands. All our products are backed with our guarantee and are 100% refundable and exchangeable. Read our reviews to see what other customers are saying about our products and services. Not to mention our special promotion code that gets you an extra 10% off your purchase today! Type HWP10 to redeem your coupon.
Posted in
2014 Wedding Trends
,
Health & Fitness
,
Ottawa Online Shopping
,
Ottawa Wedding
,
Ottawa Wedding Make-Up
,
Ottawa Wedding Photos
,
Ottawa Wedding Planner
,
Wedding
,
Wedding Makeup
,
Wedding Planning
,
Wedding Tips
Tags:
Hourglass Angel
,
Ottawa Wedding Planner
,
skin care
,
skin care tips
,
skin care tips Hourglass Angel
,
wedding ready