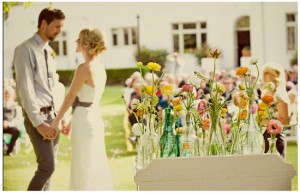 It's spring again!  Spring means new beginnings and nothing fits more than having a wedding at this time of the year.  Spring weddings radiate life, colors and warmth.
Why wed during springtime?  Although spring ranks third on the most popular time to get hitched, it's a plus since most vendors will be free and more chances of getting discounted rates on services.  If you are seriously considering spring wedding, here are some spring wedding ideas you might want to know:
Venue: Outdoors
Spring weddings and receptions are always great when held outdoors.  Take advantage on the sunny yet breezy atmosphere and the lively flower blossoms.  For possibility of sudden weather change, having umbrellas on your reception tables can protect you and your guests while still keeping the "spring look".
If it's a church wedding, inquire about their Easter decorations.  You may be able to save on costs by using theirs.
Attire:  Dresses and Suits
It's fun and amazing to look at bridesmaids wearing spring dresses in various pastel colors and groomsmen on tan suits, colored shirts and matching ties.  Pastel colors don't usually go with different types of skin tone, and having your entourage choose their color can make it easier for everybody.
For the bride's wedding dress, you will never run out of options.  Just a note, avoid satin shoes, due to April showers.
Decorations: Ceremony and Reception
Pink, yellow and green are the colors of the spring and they are the perfect motif for your ceremony and reception.  Polka dots, gingham fabrics or ribbons can accentuate the venues and can make it spring-like.  Butterflies can also make your wedding unique and beautiful.
Flowers: Bouquets and Centerpieces
Flowers are in season during spring and if you are very creative enough, you will find how to play around these flowers for your bouquets and centerpieces.  You can have contemporary bouquets like pods or spirals.  You can also incorporate eggs (symbolizing Easter) on your centerpieces, birds or butterflies.
For more ideas, discuss it with your most trusted wedding planner.  You can also check out wedding websites to help you find what you want and need for your special day.
Posted in
Ottawa Outdoor Weddings
,
Ottawa Wedding
,
Ottawa Wedding Centrepieces
,
Ottawa Wedding Ceremony
,
Ottawa Wedding Decorations
,
Ottawa Wedding Reception
,
Ottawa Wedding Themes
,
Spring Themes
,
spring weddings
,
Wedding
,
Wedding Decor
,
Wedding Planning
,
Wedding Reception
,
Wedding Themes
,
Wedding Tips
Tags:
ottawa centerpieces
,
ottawa church wedding
,
ottawa Easter decorations
,
ottawa outdoors
,
ottawa spring colors for weddings
,
ottawa spring receptions
,
ottawa spring weddings
,
ottawa wedding bouquets
,
ottawa wedding dresses
,
Ottawa Wedding Planner
,
ottawa wedding suits
,
ottawa wedding websites