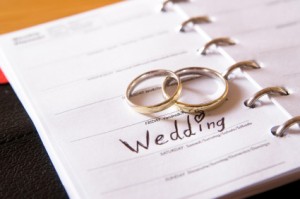 True, it's hard not to overthink when you want your wedding to be perfect.  However, over worrying could be the biggest threat to a successful wedding.  It is important then not to over extend yourself to make your 'big day' panic-proof.
Learn to get the right focus. Worry zaps energy.  It may seem natural, but worrying takes you out of the driver's seat.  Focusing on a possible negative outcome (rather than on what can be done to prevent it) gets you down.
Respond, do not react.  You may not have total control over your environment, but you have control over how you respond to it.  For instance, the flowers could arrive late. Don't let it get it under your skin.  Instead of starting a tirade, choose to proceed with the ceremonies – your main focus – and have somebody call the florist to do a follow-up.
Get yourself in the right mood.  To a large extent, mental health is a choice.  Your brain could work against you so learn to let go.  In this sense, getting yourself a massage, meditation or a 2-hour workout could do the trick.  Remember the playground.  It is no coincidence that children in the playground wear happy faces.
Panic-free wedding starts with a decision.  There is a time to prepare and there is a time to let things happen.  Decide ahead of time that you are not going to let anything get into you.
In your 'day of union' in Ottawa, everybody else – including the officiant or celebrant – are but witnesses.  Chin up! Project! You and your future better half are the stars of this momentous event.
Posted in
Marriage
,
Ottawa Wedding
,
Wedding Planning
,
Wedding Tips
Tags:
Florist
,
panic-free wedding
,
Wedding Ceremonies
,
wedding mood
,
wedding official
,
Wedding Planning
,
Wedding Tips