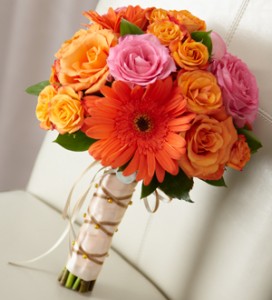 Now is the time to book your 2013 Ottawa wedding flowers! Wedding professional such as florists and other Ottawa wedding professionals are quickly filling up their calendars with 2013 weddings. You do not want to delay with your flowers, photography, wedding cakes and other wedding items from your checklist.
Crown Floral Boutique serving all of Ottawa and surrounding regions is offering brides a free throw aways bouquet when you book your 2013 wedding wedding flowers with them!
Book Your 2013 Wedding Flowers with
Crown Floral Boutique & Receive a
FREE Throw Bouquet
Crown Floral Boutique offers a large selection of beautiful and vibrant wedding flowers for your entire wedding from bouquets, arches, aisle runners and other decorations to make your wedding and ceremony extra special.
Stop by their show room located at 3B-900 Watters Rd., Orleans, Ontario or Phone 613-841-7770. Visit their website at www.crownfloral.ca to view their wedding flower selection.
Posted in
Bridal Flowers
,
Ottawa Bridal Bouquets
,
Ottawa Gatineau Wedding Events
,
Ottawa Wedding
Tags:
Bouquet
,
Centrepieces
,
Crown Floral Boutique
,
Florist
,
flowers
,
Orleans Ontario
,
Ottawa Wedding
,
Wedding Decor