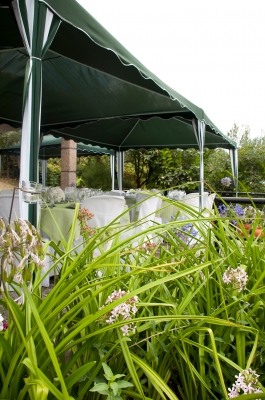 If you're hosting an outdoor wedding you're most likely going to need a tent for that. If your reception venue doesn't already have tents available it will be up to you to rent one.
Before you call any tent rental company you should check with your reception or ceremony venue and ask which company they have worked with before, and which are the most reputable and call those ones. When it comes to your wedding recommendations are free gold.
To prepare to call rental companies have your date pinned down, the number of guest nearly finalized, your ceremony and reception venues booked, and the times of your ceremony and reception set.
From this list of recommended tent companies call and get information on the size of tents, dates of availability and prices. You'll also want to know if there's anything you have to do before the tent arrives, or before the tent gets packed away when you're done.
Once you have your list completed now go with your gut and rent from the company that most impressed you, and if their prices are bit more than what you want to pay, tell them that a competitor offered the same services for less money, maybe you'll save some cash for your honeymoon!
Posted in
Backyard Wedding
,
Barn or Farm Weddings
,
Finances
,
Marriage
,
Ottawa Outdoor Weddings
,
Ottawa Wedding
,
Ottawa Wedding Ceremony
,
Ottawa Wedding Decorations
,
Ottawa Wedding Planner
,
Ottawa Wedding Reception
,
Wedding
,
Wedding Ceremony
,
Wedding Planning
,
Wedding Reception
,
Wedding Tips
,
Wedding Venue
Tags:
ceremony rentals
,
Ottawa Wedding Planner
,
reception rentals
,
rentals
,
tents
,
Wedding tent rentals
,
weddings