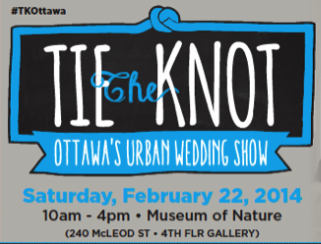 Ottawa area brides, come out to the Tie the Knot Bridal show at the Museum of Nature from 10am-4pm on Saturday, February 22. Tie the Knot is Ottawa's urban bridal show, brought to you by WellsGarbe Productions.
Come out and experience the best of what Ottawa has to offer the urban bride. Speak to wedding professionals, watch the elegant fashion show with this years hottest trends and styles, and get tips and advice for your big day.
Browse through the local vendors and sample the best of Ottawa's catering companies and bake shops. Starfish Creative Events will host a Bridal Workshop to help you plan and budget for your big day.
Tickets are only $10 and are now available here.
You can pre-register for the show here.
Posted in
2014 Wedding Trends
,
Bridal Flowers
,
Downtown Ottawa
,
Finances
,
Honeymoon Vacation
,
In the News
,
Marriage
,
Ottawa Banquet Halls
,
Ottawa Bridal Bouquets
,
Ottawa Bridal Gown Shops
,
Ottawa Bridal Shows
,
Ottawa Bridesmaid Gowns
,
Ottawa DJ Services
,
Ottawa Flower Shops
,
Ottawa Gatineau Wedding Events
,
Ottawa Hotels
,
Ottawa Limo Service
,
Ottawa Wedding
,
Ottawa Wedding Cake
,
Ottawa Wedding Catering
,
Ottawa Wedding Decorations
,
Ottawa Wedding Directory
,
Ottawa Wedding Flowers
,
Ottawa Wedding Invitations
,
Ottawa Wedding Jewelry
,
Ottawa Wedding Make-Up
,
Ottawa Wedding Music
,
Ottawa Wedding Photographers
,
Ottawa Wedding Photos
,
Ottawa Wedding Planner
,
Ottawa Wedding Reception
,
Ottawa Wedding Themes
,
Ottawa Wedding Videographer
,
Wedding
,
wedding bouquets
,
Wedding Cakes
,
Wedding Decor
,
wedding dresses
,
Wedding Event
,
Wedding Headpieces
,
Wedding Makeup
,
Wedding Photobooths
,
Wedding Planning
,
Wedding Reception
,
wedding shoes
,
Wedding Shows
,
Wedding Tips