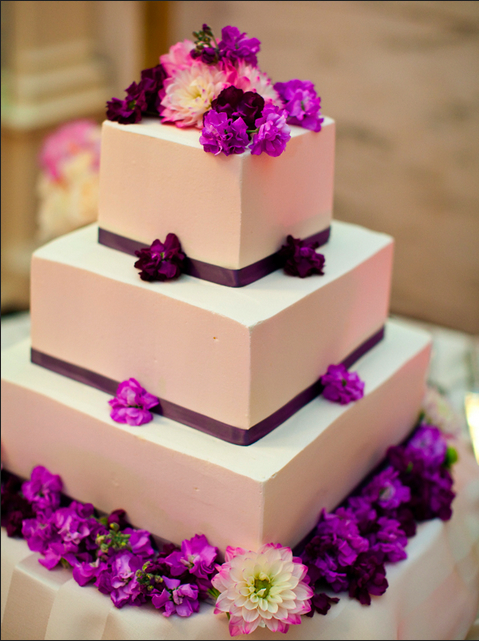 A few years back the big trend was cupcakes instead of the traditional wedding cake. If you're not sure what you want to do the best thing is to take a look at what can be done through both forms.This may be a tiny detail to your wedding day, but if you get your picture taken beside your cake it will become an important feature. When choosing a baker go on cake tastings and look through the bakers portfolio to see what they've done in the past and are willing to do for you now.
Cakes
There are so many designs and shapes that can be made with cakes. If you watch any of the popular shows about cake makers you will understand just what kind of artistry goes into creating these masterpieces. bakers can incorporate your wedding colours in the design, use real or artificial flowers as accessories, weave ribbon around and through the icing. You name it, it can be made.
When selecting a baker make sure that it's someone who is willing to sit with you and give you all the seriousness and attention you feel is necessary for this endeavour. Try to bring pictures with you so the baker can give you advice and tweak the cake to your specifications. It would also be helpful if by this time for you to choose your wedding colours so the decorations and icing can match your colour scheme.
Transportation of the cake is important too you should have your venue booked so either the baker knows where to drop off the cake, or the person responsible for transporting the cake knows how far the cake has to travel. It would be very upsetting to have a cake delivered from across town only to end up crunched in the box. You may want to consider choosing a baker relatively close to your wedding reception.
And like most other things you plan on your wedding day, referrals are always good.
Cupcakes
Cupcakes are cute and can be beautifully arranged on decorative trays. The icing can be sculpted to look like flowers, or maybe you have a decoration in mind to place in the icing itself. These little treats can be made in different sizes and sometimes different shapes. Anything that can be created for large cake can usually be reproduced on a smaller scale to fit onto the top of a cupcake. If you can't decide which way to go you can always have do both for a dramatic display that is not only visually appealing, but incredibly tasty.
Posted in
Butter Cream Icing
,
Chocolate Cupcakes
,
Inspiration Board Blogs
,
Ottawa Wedding
,
Ottawa Wedding Cake
,
Wedding Cakes
,
Wedding Cupcakes
,
wedding dessert