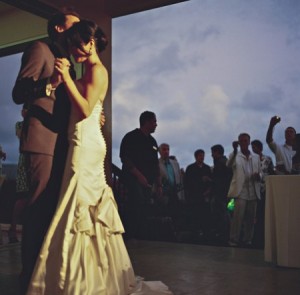 Since time immemorial, dancing completes merrymaking– very much true in a wedding in Ottawa. Sure, it may give you goose-bumps to hit the dance floor. But why waste the once-in-a-lifetime chance?
No need to hit the panic button, though. Just keep your cool. Nobody needs to know you have two-left feet.
If you choose your battles wisely, you will find slow dancing is your game. Factor these baby steps in and you're good to go.
Make the First Move
Go on now, this one is the easiest. Grab a partner. No need to get that all-glittering princess. Start with someone you know – someone you are more comfortable with (e.g., friend, cousin, grandparent).
Get the Positioning Right
Stand at a comfortable distance from each other – 6 inches or half-a-ruler would be ideal. Too far and you look like you're avoiding the bubonic plague. The man's arms should be wrapped around the waist of the woman. As for the woman, putting her hands around his neck would be best.
Or alternatively, the man could rest one hand on the small of the lady's back while clasping her other hand. Now you may have to do some role-playing if you decide to get someone of the same sex.
Easy Does It
Now, going side-to-side is perfect. Just do some swaying back and forth. Keep your cool if you don't feel like moving much. Standing with minimum movements is acceptable.
Of course, you may shake things a little bit. Right in the middle of the dance, make an unexpected turn to spice up the dance albeit traditional.
One last word: Make sure you stay in tempo. Meaning, if the beat gets a little faster, you may have to move along with it.
And if you really want to, take some lessons from dance pros. The hosts will surely be happy to have you around. Not to mention, the girls who will love you for it – granting you're not the groom, of course.
Posted in
Marriage
,
Wedding
,
Wedding Tips
Tags:
Ottawa Wedding
,
wedding
,
Wedding Dance
,
Wedding Tips